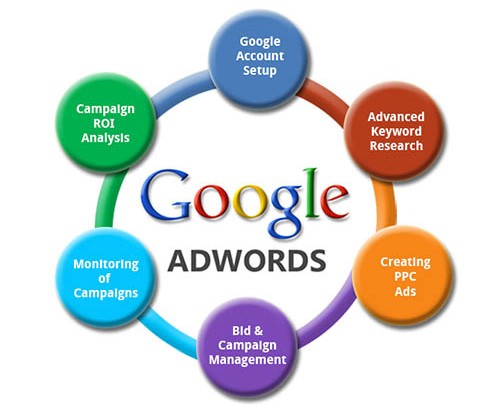 Planning A Google AdWords Campaign ? – 4 tips you need to know!
Posted by Socialmbuzz
On 9th March 2015
Think that Google's organic search alone can help you get qualified leads and build revenue, it's high time that you reconsider.  There is no denying the fact that appropriate content optimization and relevance is imperative to bagging that much coveted place in search engine results, but going that extra mile, read PPC, would surely help you maximize reach and bring in more of the high quality traffic and ROI!
The best way to incorporate PPC into your marketing strategy is to use Google Adwords to advertise your business and increase your chances of being found by prospective customers. The world of Google Adwords however can turn out to be a slippery slope if you don't watch your step well!
Here are a few points that would help your ship sail better down the Adword Sea!
Choose your keywords well!
Google Adwords is a well knit web which serves the dual purpose of helping you maximize your reach and of enticing you to bid more on relevant and irrelevant keywords alike, which is precisely why you need to bid cautiously. A decent way to go about this is to analyze your website's traffic using Google Analytics and figuring out the keywords that have a high conversion rate and bidding higher on them and similarly bidding lower on the keywords that are less relevant to your content but get a number of clicks. The relevance of the keywords and the quality score play an important role in determining the Ad position and in lowering the cost.
Exploit the Google Display Network!
The GDN is an extensive network of websites, apps and mobile sites which serve as display platforms for Google AdWords. Using GDN to advertise your business can help you maximize your coverage and minimize your costs, owing to the low CPA and high CTR of the various sites of GDN.  The GDN enables you to choose target sites, pages about specific topics, demographic groups relevant to your work and post your ad there which in turn helps you to limit the ambit of the viewership of your ad thereby enhancing the relevance and quality score of your Ad!
Link your AdWord and Analytics Account!
Google Analytics tools can track what happens after your Ad is clicked, which part of your website drives actual on-site engagement, the keywords that attract new users to your site.  More importantly it tracks down the landing pages that connect users to your site, thereby enabling you to recognize target sites. This information can further be used to improve customers' experience and to increase conversions and ROI.
Implement Bid Automation to enhance performance!
Google has launched bid adjustments for device, location and time which help you to optimize keyword bids according to your budget and goal, and the automated tools work to optimize over time to continually improve results. New flexible bid strategies enable you to apply multiple bidding strategies within a single campaign or across campaigns.
TARGET CPA, an effective bid automation tool sets an optimum bid for every auction by predicting the likelihood of a conversion.
The benefits of using AdWords are manifold in the sphere of digital marketing and would surely enhance your site traffic and conversion!
Keep a check on this space for more on digital marketing!
Team at Socialmbuzz can provide a free digital marketing audit of your marketing efforts. In this one of Socialmbuzz's digital marketing specialist will evaluate your brands' online presence and suggest how you can get more traffic and leads through your blogs, website, email marketing, social media, content or anything digital. It will include
Website Evaluation including SEO opportunities, UI, Landing pages and Lead generation forms

PPC Campaign Evaluation

Lead Generation Plan

Email Marketing Analysis

Blog Evaluation
Click here to register