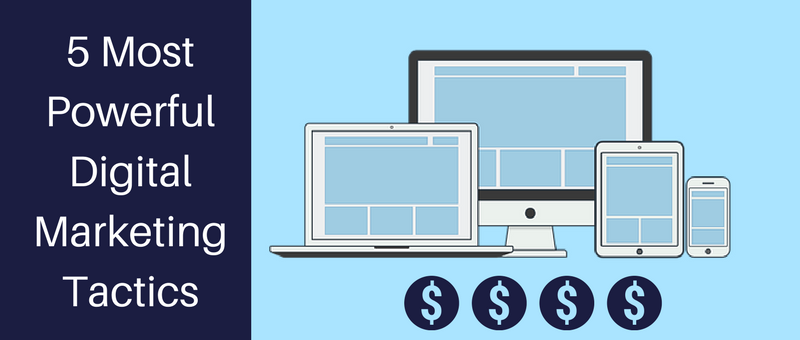 5 Most Powerful Digital Marketing Tactics For Best Results
Posted by Socialmbuzz
On 26th December 2017

Before we actually dive into digital marketing, let's first refresh our understanding of marketing.  Marketing is the integrated process of researching, promoting, distributing and selling products or services to interested potential customers.Thus after the evolution of internet search engines like Google, Bing or Yahoo and e-commerce, the boundaries of markets started to shrink; the search for the right products/services or potential customers become easier than never before.
Digital marketing is an extension of marketing and an umbrella term for all marketing efforts implemented through online media. Digital marketing uses digital channels like websites, search engines, social media platforms, emails, mobile apps to connect with prospective customers.
As of June 2017, 51% of the world population is on internet. Currently the number of social network users worldwide is around 2.46bn and by 2020 this number will reach to around 3bn. These numbers tell the story on their own as in  why digital marketing is important and what it can do for businesses.
Digital marketing is changing ways brands and businesses think of their protective customers. These days digital marketing is used in everyday life as people are connected to various websites, social media platforms and emails pretty much every hour. Customers are also using extensive searches on the web to find their required products or service rather than physically visiting places and shops. Thus digital marketing is becoming more prevalent, efficient and increases the real 'ROI' of any business.
While none of us challenges the significance of digital marketing, the bigger question remains what are the most powerful and effective digital marketing tactics that can bring desired and measurable results. Let us walk you through 5 important digital marketing tactics that has worked for us and our clients.
Most Effective Digital Marketing Tactics
1. Search Engine Optimization (SEO)
It is the process of improving visibility of a website by ranking higher on search engine results for a specific set of relevant keyword terms. SEO is termed as set of best practices for digital marketing. An effective SEO campaign will have on-page and off-page optimization strategies involved.
On-page optimization includes well-constructed and easy to use website, valuable and engaging content, and relevant information. Off-page optimization includes backlinks (links pointing to your website from other relevant and credible websites).
It is a long intensive process which needs a planned implementation to bring targeted organic traffic on your website. If you are looking to leverage any agency help for this, don't miss to first check how to choose and pick the right digital marketing agency.
2. Content Marketing
Well, you would have heard "content is king" and yes it's true. Content marketing is one of the most important digital marketing tactics.
Offering relevant and valuable content often helps prospective customers to build trust with the  valuable and useful information provided. It also helps in gaining backlinks to the website, which also helps in SEO.
It helps in brand awareness, traffic growth, and lead generation resulting in more customers.
3. Email Marketing
Emails started as an essential business tool ever since the introduction of internet, and later on emerged as one of the effective digital marketing tactic to communicate directly with prospects and customers. There are various email marketing platforms in the marketing with various strong features like auto responders and personalization. We have compiled the complete list of leading email marketing softwares and their comparison here.
It's still the quickest and most direct way to reach customers with critical information (offers, sale, discounts etc.). For email marketing to be effective the mail source should be trustworthy, content should be relevant and engaging and it should have a proper call-to-action.
4. Pay-Per-Click (PPC) Campaigns
PPC is sponsored ads visible either on the result of search engine (Google / Bing)  or social platforms ( Facebook / LinkedIn) or any third-party website like cnn.com. It is a process of driving paid traffic to your website by paying every time your sponsored result or ad is clicked. Google Adwords is one of the most popular platform for PPC campaigns, but here are other 10 alternative of Google Adwords for PPC campaigns which can deliver cost-efficient results.
The important aspect of PPC is that it can be targeted for a particular set of audience specific to search terms. PPC ads are flexible, visible and effective for most of the businesses.
5. Social Marketing
Use of social media platforms (like Facebook, Twitter, LinkedIn, YouTube) to promote products or services is actually a social media marketing. The beauty of social media is that it allows peer-to-peer sharing of relevant and engaging content increasing brand awareness, drive traffic, and generate leads for your business.
More the content is shared on social sites the more it becomes engaging and influencing with prospective customers. You can keep an eye on how your competitors are doing on social media with an intensive competitive analysis report generated from the SMART tool available here.
Above mentioned channels are few of the most relevant digital marketing tactics. As digital marketing is regularly evolving with new technologies and platforms, thus it is important for any digital marketer to keep abreast with new developments in the digital world to maximize the ROI of any business. Here is the list of best digital marketing blogs you should follow in 2018 to stay distinctly ahead in the market.