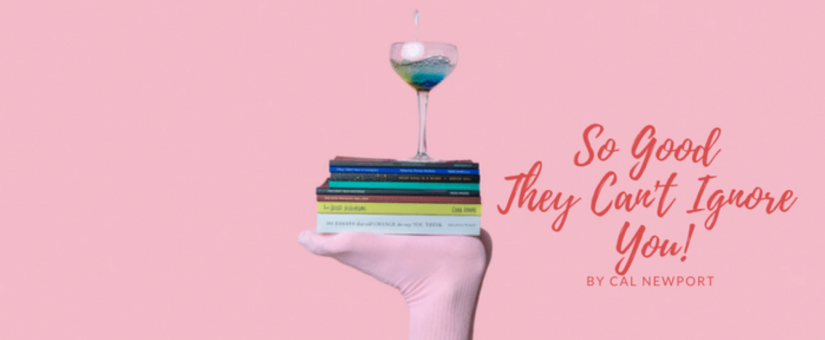 Book Fast Forward : So Good They Can't Ignore You by Cal Newport
Posted by Socialmbuzz
On 1st December 2017
We, at Socialmbuzz recently took some time out from our regular schedule to understand what makes a great career, and read one of the best book for entrepreneurs on this subject – So Good They Can't Ignore You by Cal Newport.  In this book, the author provides a complete different outlook towards one's career, ambitions, achievements and associated happiness. This is probably one of the best book with great piece of advice on how to build you career and achieve happiness in it. Here, we are presenting a summarized key learnings in a fast forward fashion directly taken from the book. We highly recommend to read the book for complete context and outlook.
#1. Passion Hypothesis
The book starts with questioning the ground validity of one of the most popular "Passion Hypothesis". As per passion hypothesis, each individual should first identify their passion, and then accordingly  find a matching profession for ultimate career happiness. As per Cal, the basic existence of this hypothesis is even wrong. Passion is very rare and at times dangerous too. He quotes Steve Jobs as one of the best example for this. Steve Jobs, a first year college dropout, was actually never passionate about technology. While handling the details of a business at the computer time-sharing company of his long-time friend, he realized the potential of huge demand for model-kit computers by hobbyists. Initially, he got an order of 50 fully assembled computers, and from there he created the history by growing passionate about his work.
#2. Passion is Rare and Side Effect of Mastery
In a survey, as per the book, though 84% of respondents were found to have any sort of passion, only less than 4% of such passions had any relation to work or education.
[bctt tweet="Passion takes time, and it comes autmatically as you start achieving mastery in one position. " username="socialmbuzz"]
When people stay long enough to learn and excel at what they are doing, they kind of start liking it and thus become passionate about their work. Passion takes time, and comes as you start achieving mastery in that position.
#3. Become A Craftsmen : Be So Good They Can't Ignore You
"Follow you Passion" is a dangerous advice, and more important thing is "Focussing on Value" – the value  you and your job delivers to each other, defined as a craftsman mindset by the author. Building a successful career on a foundation of a craftsman mindset by acquiring and developing skillsets over time is a way to progressive career. Keep an attitude to do your job really really well.
A great career for a person can be primarily defined as composition of creativity, impact and control along with many others. A great career is easily achieved by a person after acquiring rare and valuable skills called as 'Career Capital' by Cal
[bctt tweet="A great career is easily achieved by a person after acquiring rare and valuable skills called as 'Career Capital' by Cal " username="socialmbuzz"]
To build craftsmanship and excellence, it requires time and deliberate practice. Experts believe that minimum level of practice required to build career capital comes with dedication and devotion of 10,000 hours.   
#4. Achieving Control through Craftsmanship
When you build excellence in your profession through acquired career capital, you slowly start gaining more control in your position. This in turn makes you more passionate about your work as you feel happier and more engaged through enhanced control. While any control without a career capital is dangerous, any control even through due career capital may also stop you gain any further control in your organization.
#5. Think Small, Act Big
Only after achieving required craftsmanship, build a mission for your career to keep you motivating and provide required push. Mission should lead to a great success if they are accompanied with projects which are remarkable and can be easily marketed either by you or  key-members, acting as your promoters.
Note: Words / phrases like career capital, passion hypothesis etc. are directly quoted from the book.