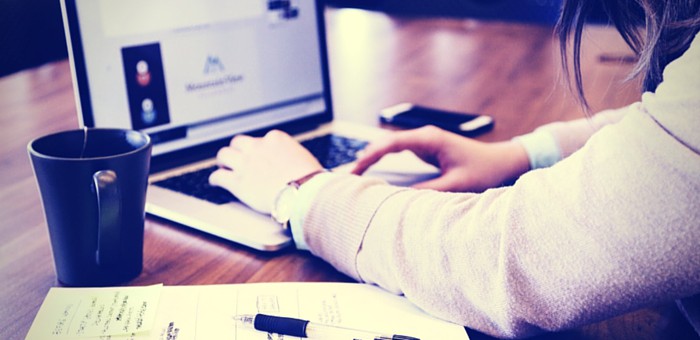 24 Best Online Courses to Learn Digital Marketing For Free
Posted by Socialmbuzz
On 7th December 2016
Often, we learn from digital marketing blogs written by digital marketers who offer digital marketing services or run digital marketing agencies… and it can get kind of stale.
We're all writing and reading about the same thing, so it becomes this vortex of similar content which makes it hard to understand the basics.
Before getting into this vortex though, digital marketers need sufficient online education. The internet is blessed with free courses from some of the most brilliant marketing minds, who educate in an easy-to-understand and inspiring way.
So to help you get better at digital marketing, we've compiled our favorite free courses on the web.
PPC Advertising
Google has put together a brilliant resource for learning Adwords from scratch. You can either watch all lessons on Youtube or learn from well-documented guides.
The study material provides basic information on how to set up a Google Adword account and your first campaign as well as advanced content like industry's best practices. It is definitely the first place to start  your learning on Google Adwords.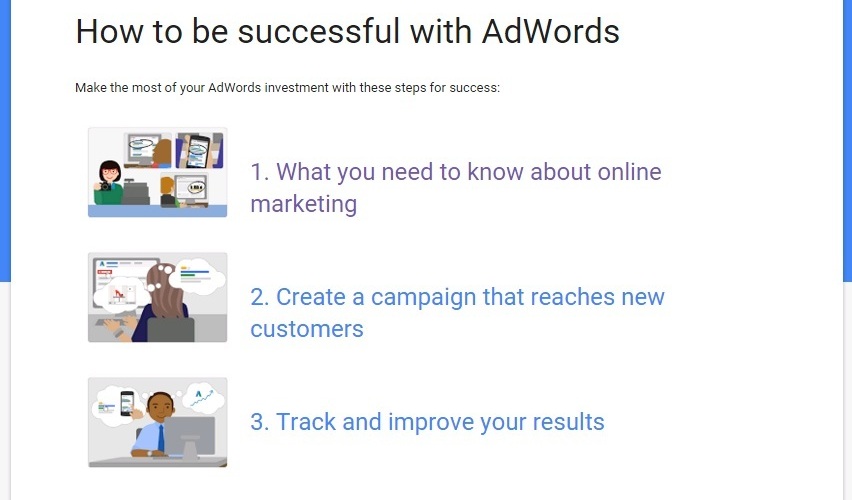 With Google Ads proving more and more costlier, Bing Ads can be better than Google Adwords to provide better ROI with the same budget. Microsoft Virtual Academy provides excellent video lessons for Bing Ads campaigns execution and optimisation. Microsoft's Bing is a rising search platform, and much like Google, they too host their own video lessons.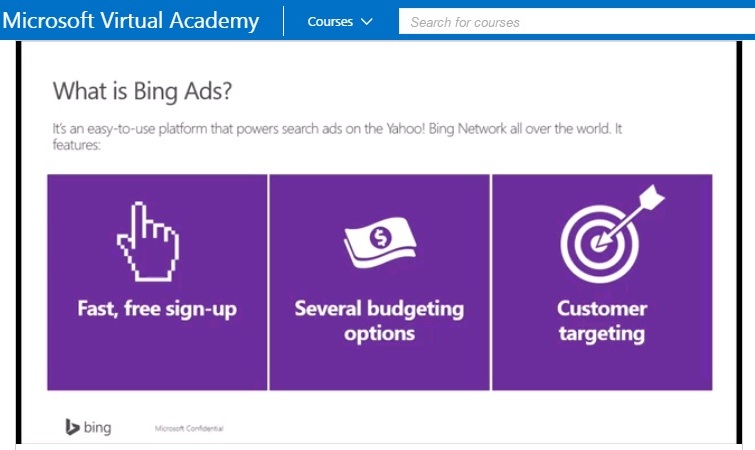 Join this course to round-off your online advertising knowledge. The instructor is quite adept at simply explaining the basics with insights drawn from her years of experience in the field. Unlike the above two courses available anytime, this is a structured course starting from 21st March to 19th April. It has 4 modules comprising of video lessons, quizzes and assessment.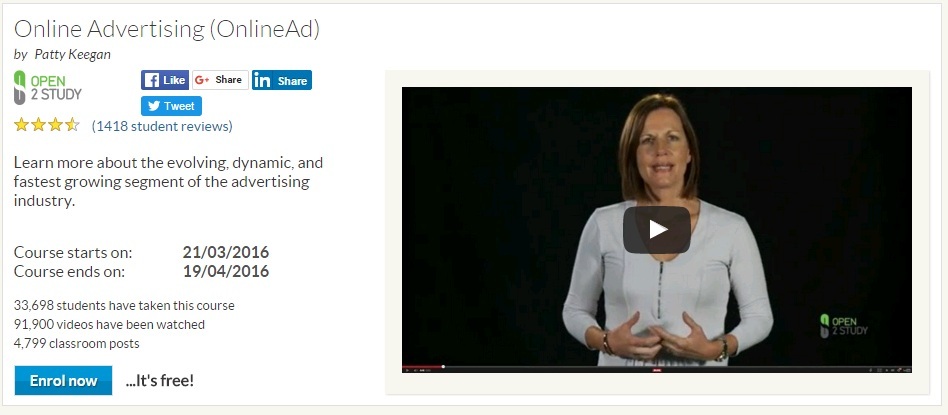 Search Engine Optimization
Learn all the basic rules and strategies of search engine optimization in this 90-minute course. The course is free and accompanied by 20 minutes SEO Q/A session via skype. The prerequisite of this course is basic understanding of HTML.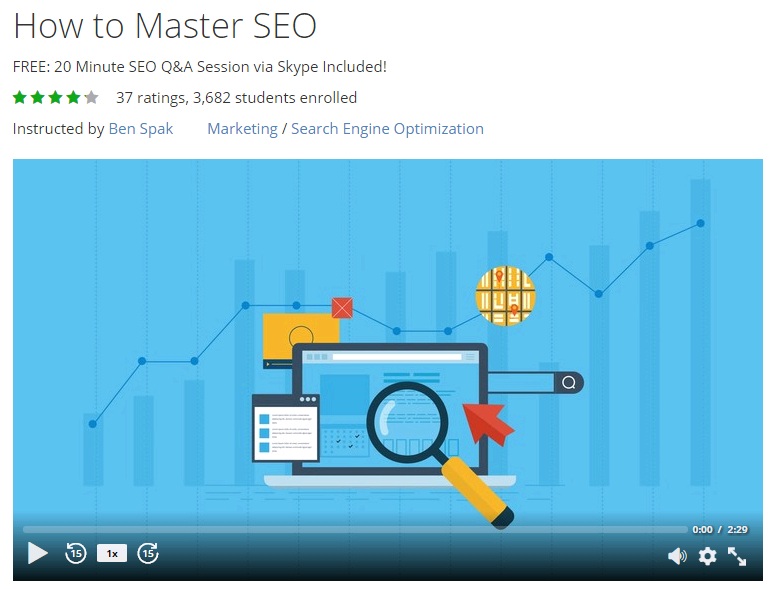 Folks at Moz share their SEO gyaan in this online course at Udemy. The Moz team explains the key tactics and strategies for a successful SEO campaign. They also highlight industry best practices. It is an hour long course covering a broad range of SEO subjects and providing tactics for quick wins as well as deep concepts and understanding.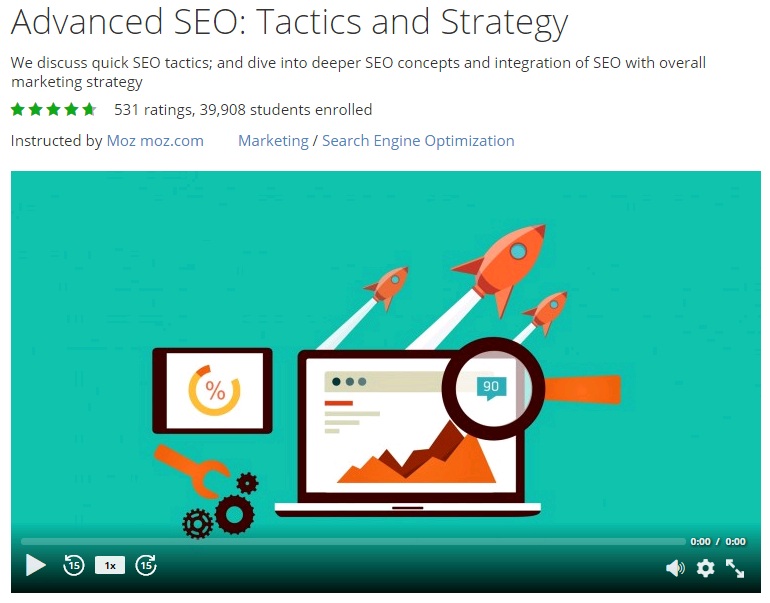 This is the most comprehensive free SEO training on the web. Filled with practical examples and exercises, you get to learn all aspects of SEO from keyword research to mobile SEO. It is pretty extensive course comprising of 42 lectures in 9.5 hours and covers almost all  topics of SEO.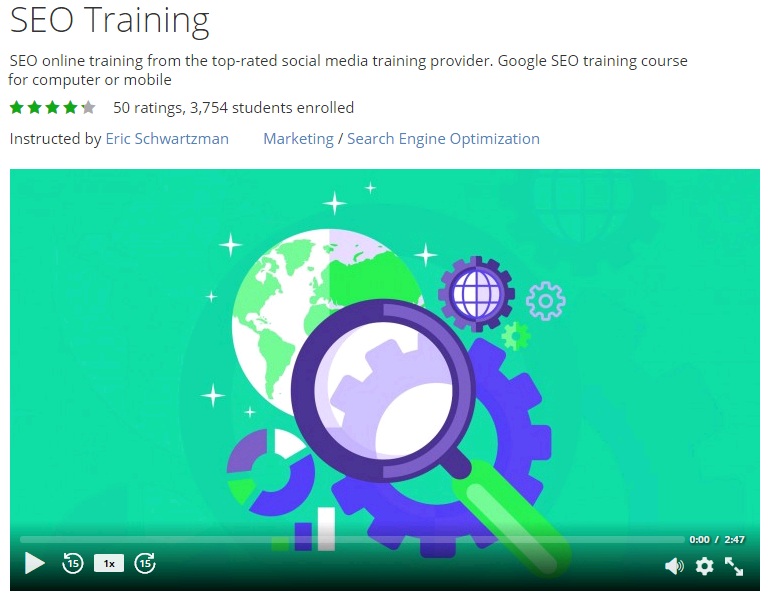 Content Marketing
Copy writing is crucial for any content strategy. So if you want to add content writing abilities to your marketing skillset, this primer course will help you understand what internet audiences love to read. The course will also help you understand other aspects of content strategy like planning, style, tone, ideas, research, editing and more.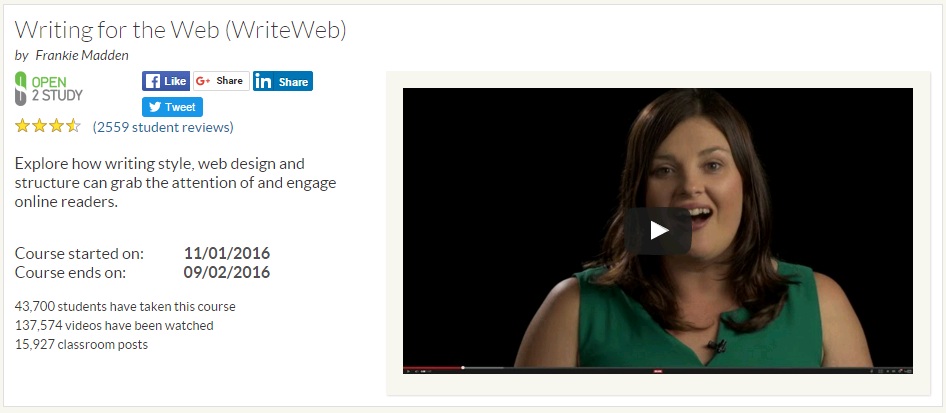 Although this course is aimed for B2B content marketing, you could easily apply the same principles for customers. The instructor beautifully explains the complete content marketing process.
The strategies discussed in the videos were all part of an actual content strategy of an organization. So you might as well gain new content ideas for your business too.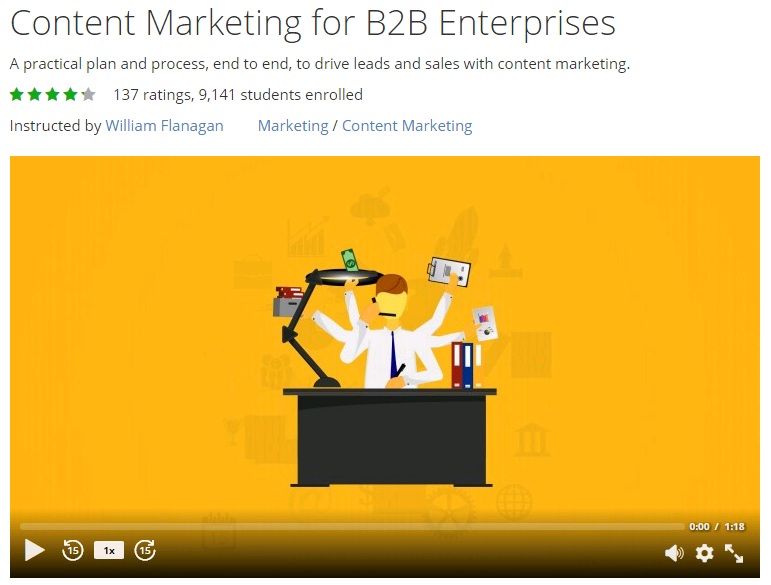 This is a more advanced course, with practical assignments to help you learn content marketing by actually doing it. You'll learn about content practices to generate leads and drive sales. The training approach is unique as in the way in which each content marketing practice is explained as a one day challenge.
You need access to tools like Unbounce and Mailchimp, although you can manage with alternative tools or work with your web developer.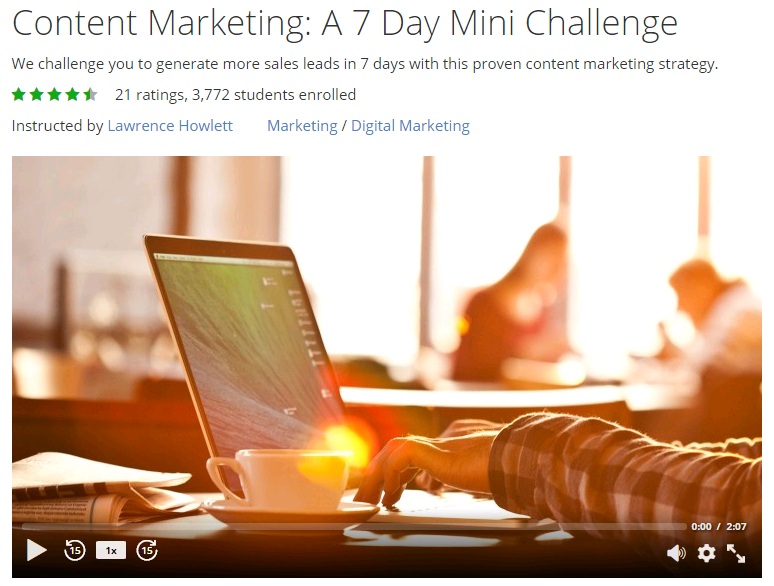 Social Media Marketing
Social media marketing is so new that no one has mastered it yet. So, if you're new to using social networks for marketing or want to get your basics right, this course is for you.
Before doing this course though, the instructor suggests to get used to various social networking sites out there. So try to ease yourself into using social media channels you aren't accustomed to.
Join this course if you want to completely understand all nuances of social media marketing (including how to integrate social media in other marketing efforts). Plus you get a full diploma.
The course also rounds up on other topics like email marketing and affiliate marketing. You'll need to access to the Aweber tool as a prerequisite.

You earn your worth as a social media marketer if your efforts are able to drive sales for your business. It's a difficult skill to acquire, but this course could be your go to guide. Brian shows you how to stay active on social media groups and forums for building your business. The course also cover Youtube marketing.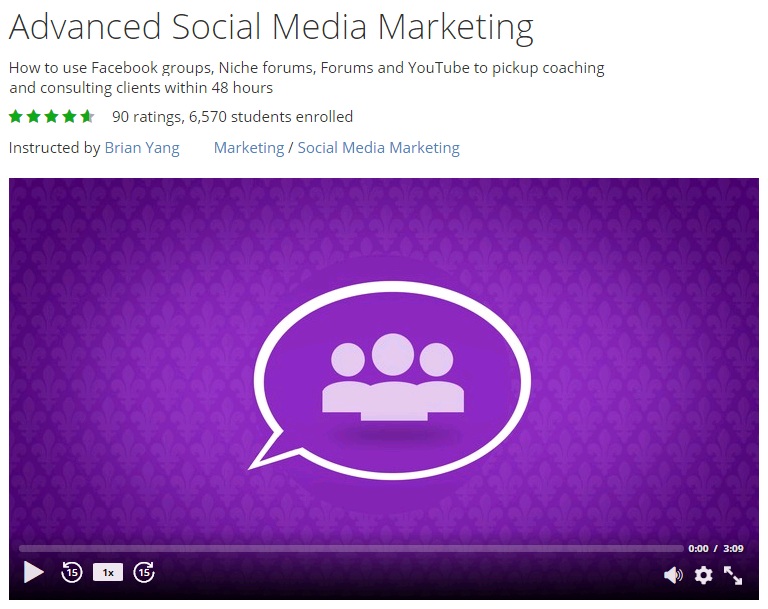 Email Marketing
Email marketing is the most underrated yet powerful method to market your products and services. In this course, the instructor focuses on effectively using the very basic email marketing strategies. Join in for one hour lessons showcasing classic email marketing campaigns. Experienced marketers could skip this one.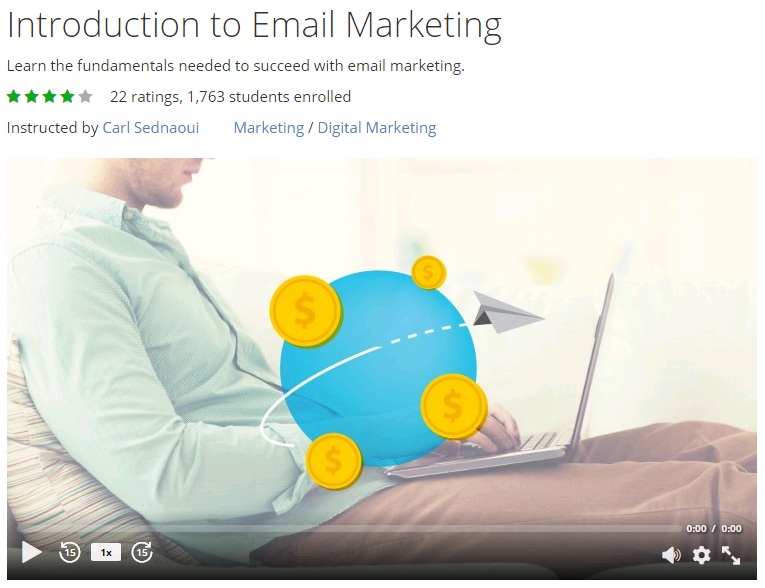 Email marketing campaigns improve sales and also sustain other forms of digital marketing. This course will help you find the right mix of promotional and non-promotional email marketing. Promotional emails include regular newsletters and standard salesy emails. Non-promotional emails focus on personalized lead nurturing messages.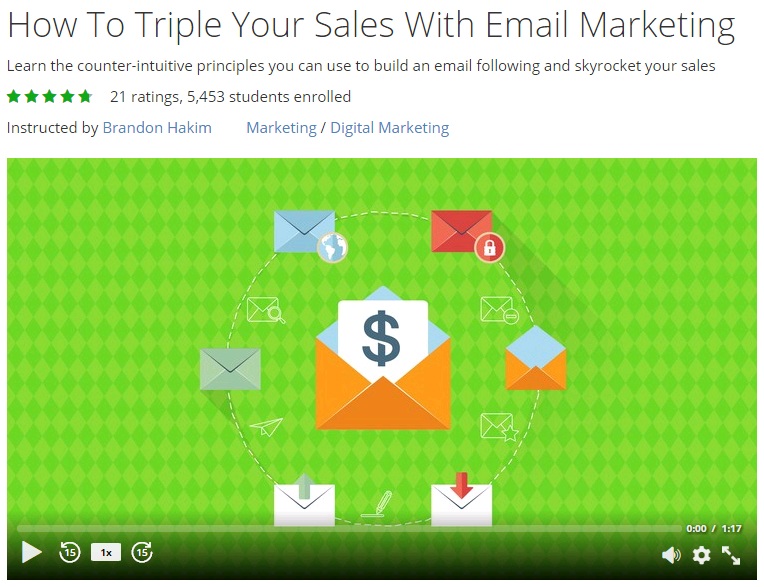 After mastering newsletters and sales emails, smart marketers focus on nurturing customers with automated drip emails based on their actions. This course shows you how to run such campaigns. You'll learn how to educate your email subscribers to build credibility for your business. You'll also come to know how top businesses stay connected with their audience through email marketing.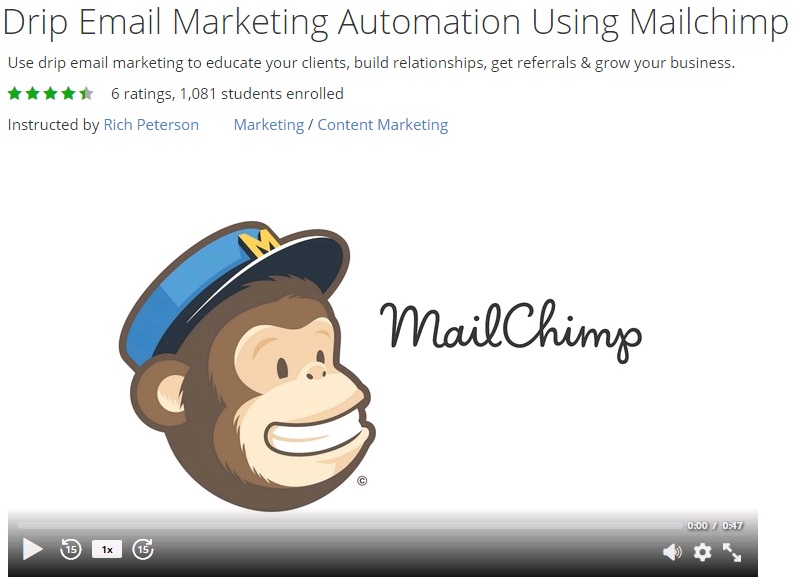 Web Analytics
Google Analytics is a handy tool to measure performance of digital marketing efforts. The search engine giant has its own online tutorial to help marketers learn directly from their experts. It is the perfect place to get started in Google Analytics. The academy also hosts tutorials for advanced topics in analytics.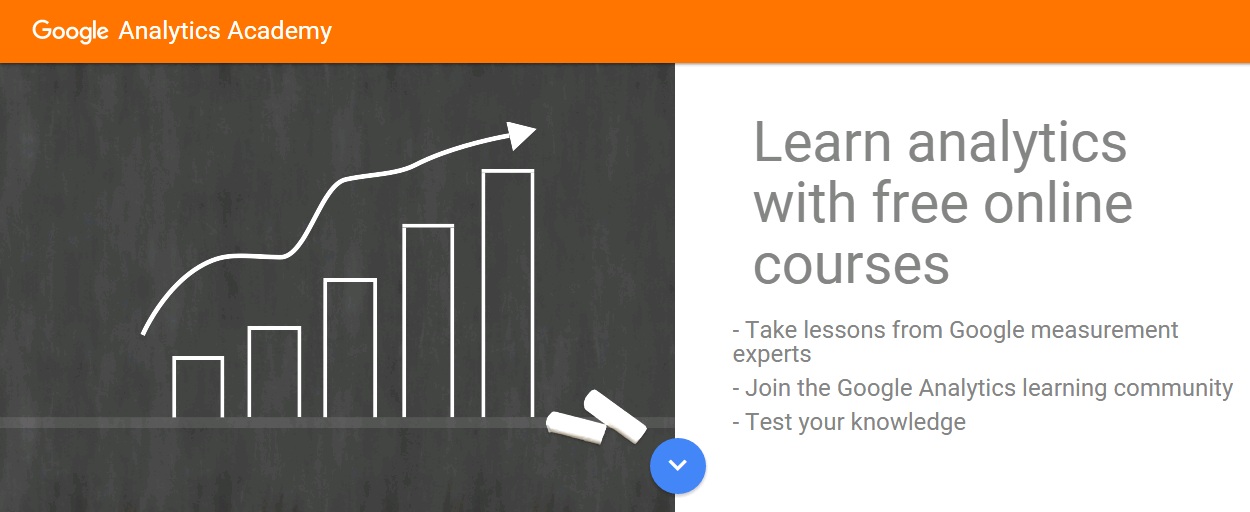 To realize the full potential of Google Analytics, you need to understand how to analyse reports and extract key marketing inferences while measuring the web. This hands-on course gets you there. You'll learn how to generate Google analytics reports for your website and analyse these reports.

Well, you can sit all day and ponder over web analytics, but to actually apply the results to your online media is another game. So join this workshop which practically approaches web analytics for a lean startup model. In two and a half hours, you'll learn a great deal about business growth using data analysis.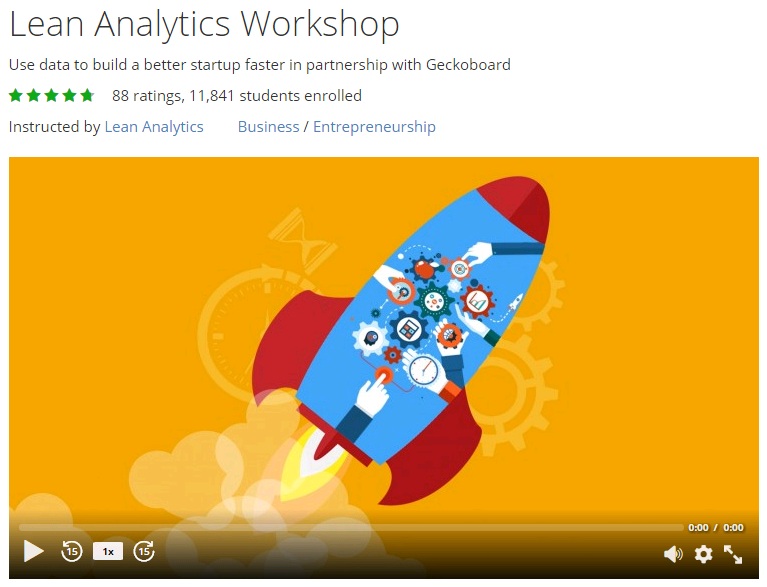 Other Useful Digital Marketing Courses
Growth hacking is an in-demand skillset among marketers. This video series isn't exactly a course, but there are lessons to be learnt from experiments and strategies applied by top growth hackers. Understand the growth hacking philosophy and get inspired for new marketing experiments.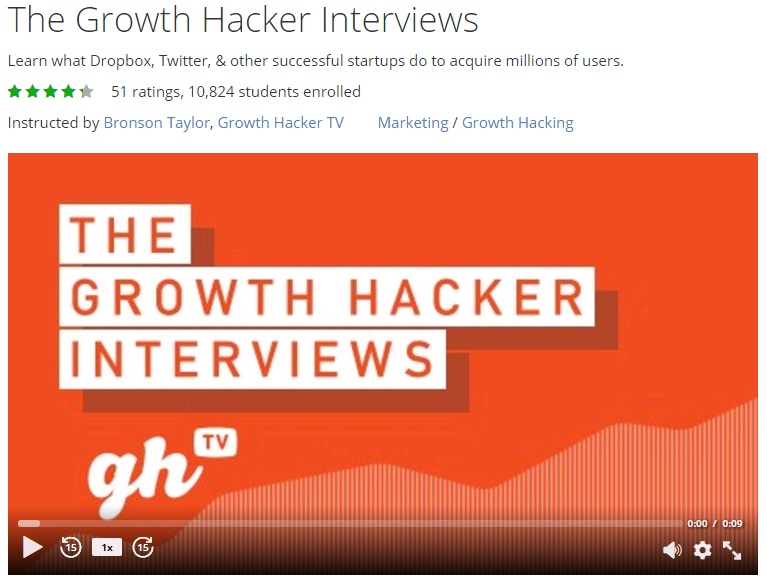 Top marketing minds from Hubspot offer a well-rounded course about inbound marketing methods and strategies. You become a certified inbound marketing expert by doing this course. The certificate has quite the reputation within the inbound marketing community.
Google has its own free digital marketing course which allows you to explore and learn all things Google for digital marketing. Experts from Google show you how to best use their free tools and get the best experience out of marketing with Google.

Advanced Courses for Digital Marketers (MIT)
Learn marketing management from MIT's Sloan School of Management. The course includes lecture notes, assignments and projects to help you manage digital marketing for your business.
This course will help you create your own marketing strategy. Learn how to analyse business goals and develop strategies to achieve these goals with online marketing efforts.
This course will help you understand marketing from an entrepreneurial perspective, which can provide key insights about the business and its customers.
Which of these online classes will you join? Do you like any other digital marketing online course?